How to Deal with Dental Anxiety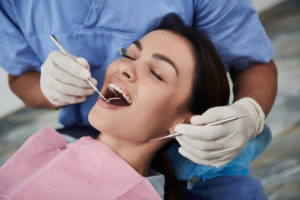 Having dental anxiety is not uncommon, but it doesn't have to prevent you from getting the dental care you need. While dental anxiety may not always be as severe as having an actual fear of the dentist, even patients who simply become nervous around the sights and sounds of a dental office might end up avoiding necessary dental appointments. To help combat these fears and ensure our patients maintain optimal oral health, we offer a variety of sedation dentistry options, such as:
Oral Conscious Sedation – prior to dental treatment, the patient is provided with oral medication designed to induce a deep state of relaxation. Patients will be instructed to take the medication shortly before their procedure, ultimately enabling them to remain comfortable and relaxed throughout their visit.   
Nitrous Oxide – also known as "laughing gas," this form of sedation is administered via inhalation through a specialized mask. The effects of nitrous oxide wear off fairly quickly after treatment, which can be beneficial for certain patients.  
General Anesthesia – under the care and supervision of an experienced anesthesiologist, patients can undergo dental care while completely asleep via general anesthesia. 
OraVerse® – for improved comfort, we offer OraVerse® as a way to alleviate any lingering numbness that can occur after receiving a local anesthetic. OraVerse® helps patients regain feeling in the affected areas much faster than they would otherwise.
Based on your unique needs, we can recommend a sedation technique that is most appropriate. In some cases, you will need to arrange for a ride home after treatment, since you will not be able to drive while in a deep state of relaxation. Dr. Jason Keckley and our knowledgeable staff can advise you on the best plan of action, according to your specific treatment plan. To enhance the safety, comfort, and overall quality of your experience Dr. Keckley is licensed as an administrator of conscious sedation dentistry medication. At least once every two years, Dr. Keckley takes the time to attend the DOCS Education class titled Oral Sedation Re-Certification to maintain his credentials, learn about new developments in the field, and sharpen his skills.  
To find out if sedation dentistry may be able to help you overcome your dental anxiety and receive the care you need, please contact us today. Our friendly staff can answer your questions and help you schedule a consultation with Dr. Keckley.