Tooth Extractions
Tooth extractions can provide necessary relief to patients with a tooth affected by severe decay, injury, or crowding. These dental concerns often cause significant pain or discomfort to individuals and, in some cases, removing the affected tooth and potentially replacing it with a natural-looking restoration can be vital to your oral and overall health. While our experienced cosmetic dentist, Jason Keckley, DMD, will consider a range of other restorative options before recommending an extraction, our practice can utilize advanced dental techniques to ensure your treatment is as easy and comfortable as possible. Dr. Keckley is also skilled in sedation dentistry and offers many options which can alleviate patient anxiety and apprehension about the tooth extraction procedure.
Tooth Extraction Process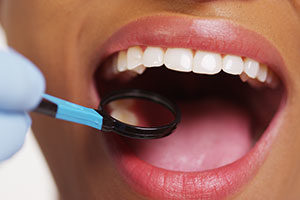 Before considering a tooth extraction, Dr. Keckley will perform a thorough analysis of your dental concerns and look to an array of other options to restore tooth health. This can include root canal therapy, a procedure designed to effectively prolong the life of a tooth affected by damage or decay. However, when a root canal will no longer benefit the problem tooth, Dr. Keckley will discuss the expectations and goals of a tooth extraction procedure. He will also take your unique needs and concerns into account before determining the most comfortable and effective approach that can provide optimal results.
Once the tooth is safely removed, Dr. Keckley can present many replacement options to fill the empty space and prevent infections from forming. Dental implants and dental bridges are durable, custom restorations that look and feel like natural teeth. Because they are placed where the unhealthy tooth used to be, they can provide a long-lasting, effective replacement without interfering with eating, smiling, or speaking. Depending on your dental needs and cosmetic desires, Dr. Keckley can work with you to determine which option will provide the ideal outcome.
Care After a Tooth Extraction
After extraction, Dr. Keckley will provide you with specific instructions to facilitate the healing of your gum tissue. Generally, you will want to take care to limit yourself to a soft diet for the first 24 hours after treatment, avoiding consumption of food or drink that is very hot, tough, or sticky. We also advise patients to abstain from smoking or drinking for at least the first day following the procedure. While you may be advised to avoid the affected area during your daily oral hygiene habits, you should be able to brush and floss the area normally again after the first 24 hours.
Tooth Extraction Cost
The cost of this procedure is largely determined by the details of your own unique treatment plan. During your consultation, Dr. Keckley will discuss the expectations of treatment with you to ensure you are thoroughly aware of the procedural details. You can feel confident that, prior to beginning treatment, you will know the full cost of services, including the amount covered by insurance. Our practice also offers an array of dental financing and payment options to accommodate patients, including acceptance of many major credit cards, cash, personal checks, PPO insurance plans, health savings accounts (HSA), and customized payment plans.
We also accept several forms of dental insurance and can always check to see if your dental plan is covered. Coronado Classic Dentistry is also proud to be an official VA Vendor, meaning if you are a military veteran and have been approved for off-base treatment, your care may be covered. To check if you are eligible, or for any other questions about our financing options, please don't hesitate to call our practice and speak to a friendly member of our team today.
Frequently Asked Questions (FAQ)
Who are the candidates for a tooth extraction?
Patients with extensive tooth damage or decay, who cannot benefit from a root canal, are typically considered for an extraction. In addition, individuals with teeth that are extremely crowded may benefit from tooth removal, as well as patients whose molars are impacted or misaligned.
Why would a tooth need to be extracted?
When the amount of decay accumulated in a tooth is substantial, or when a tooth is severely injured beyond repair, extraction can be a good solution for your overall oral health. It is often very painful for individuals to have decayed or injured teeth, and also creates the possibility of further complications, such as oral infections, gum disease, and problems to surrounding teeth. Left untreated, an unhealthy tooth can also pose a risk to your overall health since oral health is inextricably linked to general wellness. A tooth extraction can reduce this threat, as well as provide relief from pain catalyzed by a decayed or damaged tooth.
How can sedation dentistry help make my treatment more comfortable?
Sedation dentistry utilizes advanced approaches to help dental treatments become a more relaxed and comfortable experience for patients. Whether the best method of sedation for your treatment involves nitrous oxide (more commonly known as "laughing gas") or oral-conscious sedation, the state-of-the-art medicine and technology used during the procedure can ultimately help you feel more relaxed. If general anesthesia is administered, you will be completely asleep and should have no memory of the procedure. All methods can minimize patient discomfort, while alleviating anxiety and dental phobia.
Are there potential complications associated with tooth extraction?
Although complications during an extraction are rare, like all treatments, there is a possibility of them occurring. If you have an adverse reaction to any medicine or experience pain or continued swelling after several days, please contact our practice immediately.
When performed by a skilled dentist, tooth extractions can be an easy and comfortable way to restore oral health. For more information on tooth extractions, or to schedule a consultation, please don't hesitate to contact our team today.