Jaw Pain (TMJ Treatment)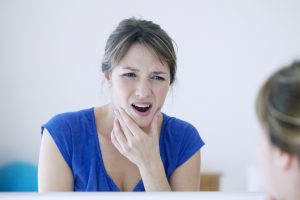 Problems with the temporomandibular joint, or TMJ, can cause severe pain, discomfort, jaw malfunction, and symptoms that radiate throughout other areas of the body. Temporomandibular joint disorders (TMD) can involve the joint itself and/or the musculature of the jaw, face, head, and neck. At Coronado Classic Dentistry our dentist, Jason Keckley, DMD, is experienced in diagnosing and treating TMD. Using night guards and custom oral appliances, Dr. Keckley is often able to restore proper alignment to the jaw, relieve pain, and reduce stress on the jaw joint.
Causes of TMJ Disorder
There can be many causes for developing disorders of the temporomandibular joint, including:
Teeth grinding and clenching
Arthritis in the jaw joint
Stress
Jaw imbalance / misalignment
Simple overuse
Movement of the joint cushioning (TMJ disk)
Injury to the jaw joint or jaw
Injury to the tendons and musculature of the head and neck
The TMJ is a very complex structure and point of articulation that relies upon proper systematic function and positioning of bone, muscle, cartilage, and soft tissue. When the joint system is disrupted, the result can be a temporary period of discomfort until the problem resolves itself, or a chronic, persistent source of pain and malfunction that may lead to permanent damage. It is important to have any symptoms you are experiencing evaluated by Dr. Keckley to see if there are treatments that can help restore proper function and alleviate pain.
Symptoms of TMJ Disorder
There are many symptoms that can indicate problems associated with the temporomandibular joint. Common symptoms may include:
Stiff, sore jaw muscles
Headaches
Jaw clicking, popping, or grinding sounds
Ear pain
Ringing in the ears
Dizziness
Pain near the temples
Inability to open mouth widely
Difficulty chewing
A feeling of numbness in the arms / fingers
Pain in the shoulder, neck, and/or back
Locking of the jaw in either a closed or open position
If you are experiencing any of these symptoms, we encourage you to contact our office to schedule a consultation with Dr. Keckley. During your consultation he will review your concerns and perform a thorough diagnostic assessment to determine if TMD may be the cause of your symptoms.
Treating TMJ Disorder
Once Dr. Keckley diagnoses your TMD, he will then evaluate whether or not you are a good candidate for the treatments he offers and develop a customized treatment plan. If you are not a good candidate, he will refer you to a physician who will be better equipped to deliver the degree of treatment you may require. The pain-relieving treatments we offer at our practice include night guards to prevent teeth grinding and clenching while you sleep and reduce stress on the TMJ, as well as customized oral appliances to realign the jaw. The option or combination of options that Dr. Keckley suggests will be based on addressing the specific needs he assesses during your consultation. If Dr. Keckley finds evidence of TMD prior to starting cosmetic dentistry procedures, he may recommend resolving issues with your bite and jaw to improve the longevity of your restorations.
Contact Coronado Classic Dentistry
For more information about disorders related to the temporomandibular joint (TMJ) contact our office to speak with a knowledgeable member of our team. We can answer any questions you may have or help schedule your consultation with Dr. Keckley.