Secure Dentures (Implant Supported Dentures)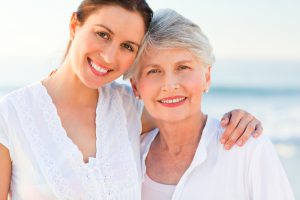 Secure dentures provide an effective solution for replacing missing teeth and stabilizing otherwise unreliable dentures. Unlike traditional dentures, which rely on adhesives to stay in place, implant supported dentures are held securely in position by titanium dental implant posts. The implants, which are fused within the jawbone, affix dentures into the mouth for improved functionality, fit, and reliability. Our dentist, Jason Keckley, DMD, performs all phases of the implant procedure at our office and patients can be quickly fitted for natural-looking overdentures soon after implants are placed.
Benefits of Implant Secured Dentures
Full and partial dentures stabilized by a series of dental implants can be a functional and aesthetically pleasing option for replacing missing teeth. Secure dentures offer several benefits which include:
Prevention of denture movement while eating, speaking, and smiling
No need for adhesives
Lower cost compared to traditional dental implants
Often a suitable option for patients who are not good candidates for traditional dental implants
Natural-looking and long-lasting option for replacing missing teeth
Dentures can be easily removed for cleaning and maintenance
If you are considering secure dentures, contact Coronado Classic Dentistry today to schedule your consultation with Dr. Keckley. During your appointment, he can answer any questions you may have and determine if you are a good candidate for implant supported dentures.
The Procedure for Implant Supported Dentures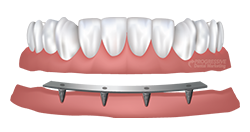 If tooth extractions or periodontal treatment is required to improve oral health, these procedures need to be completed before implantation can begin. Once healed, Dr. Keckley will determine the number and ideal placements for the implant posts that will secure your full or partial dentures. Dr. Keckley then surgically implants the posts and allows them to heal and fuse with the jawbone. Not long after the implants have been placed, the custom-designed full or partial dentures can be snapped into position to complete your smile. We use only the highest-quality materials, design techniques, and dental laboratories to create the dentures we provide for our patients, which allows us to deliver long-lasting, aesthetically pleasing results.
Contact Coronado Classic Dentistry
If you would like to learn more about implant secured dentures, we encourage you to contact our practice today to schedule your consultation with Dr. Keckley.