Implant-Supported Dentures
Implant-supported dentures—sometimes also referred to as implant-anchored dentures—are an innovative solution to full-arch replacement that can provide an excellent alternative to traditional removable dentures. Whereas traditional dentures are designed to be removed, implant dentures are affixed firmly in the mouth using a few precisely placed dental implants. This reduces the need for adhesive pastes and gels while also mitigating the potential for denture slipping and chafing. Furthermore, many patients find implant dentures to be easier to care for and more aesthetically pleasing than traditional dentures. Our Coronado dentist, Jason Keckley, DMD, has extensive experience placing high-quality implant dentures, and he can help determine if this treatment is right for you.
What are Implant-Supported Dentures?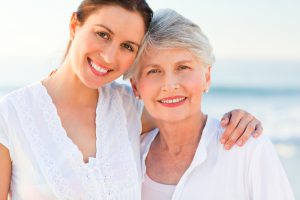 Implant-retained dentures provide an effective solution for replacing missing teeth and stabilizing otherwise unreliable dentures. Unlike traditional dentures, which rely on adhesives to stay in place, implant-supported dentures are held in position by titanium dental implant posts. The implants, which are fused within the jawbone, affix dentures into the mouth for improved functionality, fit, and reliability.
Dr. Keckley can perform all phases of the implant procedure at our office; however, specialists are commonly called upon for their expertise in certain aspects of the implant process. When the implants have been placed, patients can be fitted for natural-looking overdentures soon after.
What Are the Benefits of Implant-Supported Dentures?
Full and partial dentures supported by a series of dental implants can be a functional and aesthetically pleasing option for replacing missing teeth. Implant-retained dentures offer several benefits which include:
Prevention of denture movement while eating, speaking, and smiling
No need for adhesives
Lower cost compared to traditional dental implants
Often a suitable option for patients who are not good candidates for traditional dental implants
Natural-looking and long-lasting option for replacing missing teeth
Dentures can be easily removed for cleaning and maintenance
If you are considering implant-retained dentures, contact Coronado Classic Dentistry today to schedule your consultation with Dr. Keckley. During your appointment, he can answer any questions you may have and determine if you are a good candidate for implant supported dentures.
What Are My Implant Denture Options?
Based on your jawbone density, dental needs, and budget there are several different ways Dr. Keckley can approach your implant-supported denture treatment plan. The method and treatment plan he develops is always customized to meet your unique needs and goals. When a patient desires replacement of all of his or her teeth (both the upper and lower arches) with implant dentures, this type of treatment plan may be referred to as full mouth rehabilitation.
During your consultation, Dr. Keckley will educate you about all of your options, so that you are able to make the most informed decisions about your care. You will be educated about any drawbacks and/or benefits each approach presents, empowering you to make the most appropriate choice for you.
What Happens During the Implant-Supported Dentures Procedure?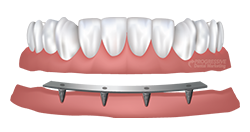 If tooth extraction(s) or periodontal treatment are required to improve oral health, these procedures need to be completed before implantation can begin. Once healed, Dr. Keckley will determine the number and ideal placements for the implant posts that will stabilize your full or partial dentures. Dr. Keckley then surgically implants the posts and allows them to heal and fuse with the jawbone. Not long after the implants have been placed, the custom-designed full or partial dentures can be snapped into position to complete your smile. We use only the highest-quality materials, design techniques, and dental laboratories to create the dentures we provide for our patients, which allows us to deliver long-lasting, aesthetically pleasing results.
While there are some cases in which Dr. Keckley performs every stage of the procedure, some complex aspects of treatment may require the expertise of a trusted specialist.
How Long Will My Implant-Supported Dentures Last?
With proper care and maintenance, your implant-supported dentures can last for many years, oftentimes even decades. Dental implants themselves—once they have properly fused with your jawbone—are considered a permanent part of your mouth, which is why they can create such a stable, supportive base for your denture prosthesis. That said, caring for the health of your dental implants is very much like caring for the health of your natural teeth: in order to keep them in optimal condition, you should maintain good oral hygiene and avoid habits like smoking or teeth grinding, which can prematurely wear down your implants and damage your denture prosthetic.
How Do I Care For My Implant Dentures?
One of the many benefits associated with implant dentures is that they can be cared for in essentially the same way that you would care for your natural teeth. Daily brushing and flossing along with twice yearly professional cleanings is typically enough to keep your implant dentures in good condition. Keeping up with your regular dental appointments can also help your dentist identify and treat any potential concerns before they become bigger problems.
How Much Do Implant Dentures Cost?
The total cost for implant dentures is calculated based on several variables, which can cause prices to vary widely from patient to patient. The overall price quote is determined by:
Imaging costs
Any procedures necessary to improve oral health prior to implant surgery (i.e. tooth extractions, bone grafts, periodontal treatments, etc.)
The number of implants required to support the full arch(es)
The number of arches needed (either one or two)
The material(s) and technique used to fabricate the arch(es) of replacement teeth
Fees for sedation
You will receive a complete estimate for the cost of your implant denture treatment plan at the end of your consultation. If desired, a knowledgeable member of our office staff can discuss the different payment options we accept and explain our low-APR in-office dental financing options. We will do our best to help you find the most convenient and affordable way to pay for the treatment you desire. Though implant dentures are not typically covered by dental insurance, we can check your benefits to see if any part of your treatment qualifies under your plan.
Contact Coronado Classic Dentistry
If you would like to learn more about implant-supported dentures, we encourage you to contact our practice today to schedule your consultation with Dr. Keckley.