ClearCorrect™

ClearCorrect™ is an innovative system of orthodontics using removable transparent aligners to straighten misaligned teeth. While traditional metal braces can be bulky, uncomfortable, and draw unwanted attention, ClearCorrect™ uses custom-fitted clear plastic aligners that are virtually undetectable when worn. With ClearCorrect™, patients at Coronado Classic Dentistry can achieve a beautiful smile quickly, efficiently, and discreetly.
To find out if you are a good candidate for ClearCorrect™, we invite you to schedule a consultation with our experienced cosmetic dentist, Jason Keckley, DMD.
What Are the Benefits of ClearCorrect™?
While the main advantage of ClearCorrect™ is the ability to straighten the teeth inconspicuously, this method offers many other benefits when compared to traditional braces:
ClearCorrect™ aligners are removable at any time
There are no food limitations
Patients are able to brush and floss teeth normally without interference from wires and brackets
Aligners do not damage tooth enamel like braces can
ClearCorrect™ is designed for optimal comfort—there is no chance of wires irritating or cutting the inside of the mouth.
Aligners are easily cleaned with a toothbrush and water, or a small amount of soap when necessary.
Fewer visits to the dentist's office are typically required, since there are no wires or brackets to repair.
ClearCorrect™ can be a more cost effective than traditional braces
Who Is a Candidate for ClearCorrect™?
ClearCorrect™ may be an ideal solution for patients who want to improve the appearance and function of their smile without the inconveniences associated with braces. Both children and adults can benefit from this innovative method of straightening the teeth. Candidates for ClearCorrect™ typically exhibit one or more of the following conditions:
Overly crowded teeth
Gaps between the teeth
Rotated teeth
Overbite
Underbite
The duration of your treatment with ClearCorrect™ will vary based on the severity of your misalignment. Since the effectiveness of ClearCorrect™ is directly related to the patient's diligence in wearing the removable aligners, the best candidates are self-disciplined and committed to the treatment.
How Does ClearCorrect™ Work?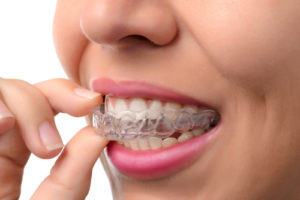 If Dr. Keckley determines that you are a good candidate for ClearCorrect™, he will take several digital images of your teeth and send them to the ClearCorrect™ dental lab. There, the images of your teeth will be used to create a series of clear, customized aligners, which can progressively straighten your teeth until optimal results have been achieved. When worn diligently, the ClearCorrect™ aligners are designed to gradually guide your teeth into their ideal position, improving your smile. Each set of custom aligners is worn for about three weeks before you are instructed to move on to the next set in the series. The duration of treatment can vary from patient to patient, though most treatment plans last between 6 to 18 months. Wearing the ClearCorrect™ aligners for at least 22 hours per day is essential for achieving optimal results in the shortest period of time.
What Will My ClearCorrect™ Results Look Like?
The result of ClearCorrect™ treatment should be straighter, more uniform teeth with improved bite function. Dr. Keckley's patients often report improved confidence when smiling, laughing, or otherwise showing off their beautiful new smile. That said, in order to achieve and maintain optimal results with ClearCorrect™, it is important to carefully follow all of your dentist's instructions. With any removable aligner system, compliance is key, and wearing your aligners and post-treatment retainer as directed gives you the best possibility of achieving an optimal, long-lasting result.
How Much Does ClearCorrect™ Cost?
The price of treatment with ClearCorrect™ will depend upon your unique orthodontic needs and the number of aligners required to achieve your treatment goals. Based on your initial dental scans and Dr. Keckley's input, the ClearCorrect™ lab will determine the appropriate aligner prescription, which is then sent back to Coronado Classic Dentistry. The prescription can then be calculated into an exact cost quote that's presented to you during your second appointment. At this time you will have the opportunity to discuss:
Whether orthodontic coverage is included in your dental insurance benefits: Our office team can check your benefits and tell you how much you can expect to pay out-of-pocket.
Available financing options and payment plans that can help make the cost of treatment more budget-friendly: We offer low-APR, in-house payment plans that require a signed contract and credit/debit card on file.
Payment options we accept: In addition to cash, personal checks, debit cards, and credit cards, we also accept payment with flex benefit cards and health savings accounts (if approved for this type of treatment).
Many of our patients are pleased to find that ClearCorrect™ often costs notably less than other clear aligner systems on the market. If you are interested in a price quote, please contact Coronado Classic Dentistry for an evaluation and ClearCorrect™ work-up performed by Dr. Keckley.
Additional ClearCorrect™ FAQs
Are ClearCorrect™ aligners comfortable?
Innovative treatment planning, high-quality materials, and precision manufacturing processes help to ensure your ClearCorrect™ aligners are fabricated to be as comfortable as possible. While you may feel some temporary soreness due to the shifting of your teeth, the majority of our patients find the smooth surface and snug fit of the ClearCorrect™ aligners to be a pleasant approach to orthodontic treatment.
Will ClearCorrect™ aligners affect my speech?
While you may experience a temporary period of adjustment when you first begin wearing your aligners, the majority of ClearCorrect™  patients find they are able to speak clearly with their aligners in place.
How long will it take to straighten my teeth with ClearCorrect™?
The length of your ClearCorrect™ aligners will depend on the degree and type of movement required to achieve straight teeth and a properly aligned bite. Following your initial evaluation, Dr. Keckley can provide you with an estimate of how long treatment should take under ideal circumstances; however, this estimate may be subject to change based on non-compliance (not wearing your aligners as frequently as prescribed) or slower than anticipated treatment progress.
Will I have to wear retainers after ClearCorrect™ treatment?
Maintaining the quality of your ClearCorrect™  results and preventing an orthodontic relapse requires the use of retainers. When you complete your treatment plan, you will be provided additional aligners that are meant to be worn as retainers to keep the teeth from moving out of alignment. Usually this means wearing aligners at night for a recommended period of time. Dr. Keckley can continue to evaluate the condition of your treatment result over time and will advise you on when you can stop wearing your retainers.
Do I need to wear my ClearCorrect™ aligners while I sleep?/h3>
Yes, you will need to wear your ClearCorrect™ aligners while you sleep. The only time that your aligners should be removed is when you are eating, drinking, or attending to your dental hygiene routine. Fortunately, the ClearCorrect™  system is designed with comfort in mind, and most patients have no difficulty sleeping while wearing their aligners.
Are there age restrictions associated with ClearCorrect™?
Both adults and adolescents can benefit from treatment with ClearCorrect™. That said, clear aligner systems are typically not recommended until patients have all of their permanent teeth in place. The presence of primary teeth—also called "baby teeth"—or the continued eruption of permanent teeth can cause issues with aligner fit and extend the length of treatment.
How do I clean my ClearCorrect™ aligners?
Cleaning your ClearCorrect™ aligners is an important part of the treatment process. In general, whenever you remove your aligners, we suggest rinsing them with water to remove saliva, food particles, and debris. Dr. Keckley also recommends that patients gently brush their aligners with a soft-bristled toothbrush at least twice a day—typically at the same time that you brush your teeth. This provides a deeper clean and can prevent bacterial buildup. Patients may also be advised to soak their aligners every so often to help keep them from staining. Dr. Keckley can make specific recommendations regarding cleaning products during your consultation process to help keep your smile healthy and hygienic.
Contact Coronado Classic Dentistry
If you would like to learn more about straightening your teeth with ClearCorrect™, please contact our office today. A member of our staff can help you schedule an appointment with Dr. Jason Keckley.