ClearCorrect™

ClearCorrect™ is an innovative system of orthodontics using removable transparent aligners to straighten misaligned teeth. While traditional metal braces can be bulky, uncomfortable, and draw unwanted attention, ClearCorrect™ uses custom-fitted clear plastic aligners that are virtually undetectable when worn. With ClearCorrect™, patients at Coronado Classic Dentistry can achieve a beautiful smile quickly, efficiently, and discreetly.
To find out if you are a good candidate for ClearCorrect™, we invite you to schedule a consultation with our experienced dentist, Jason Keckley, DMD.
Benefits of ClearCorrect™
While the main advantage of ClearCorrect™ is the ability to straighten the teeth inconspicuously, this method offers many other benefits when compared to traditional braces:
ClearCorrect™ aligners are removable at any time
There are no food limitations
Patients are able to brush and floss teeth normally without interference from wires and brackets
Aligners do not damage tooth enamel like braces can
ClearCorrect™ is designed for optimal comfort—there is no chance of wires irritating or cutting the inside of the mouth.
Aligners are easily cleaned with a toothbrush and water, or a small amount of soap when necessary.
Fewer visits to the dentist's office are typically required, since there are no wires or brackets to repair.
ClearCorrect™ can be a more cost effective than traditional braces
Candidates for ClearCorrect™
ClearCorrect™ may be an ideal solution for patients who want to improve the appearance and function of their smile without the inconveniences associated with braces. Both children and adults can benefit from this innovative method of straightening the teeth. Candidates for ClearCorrect™ typically exhibit one or more of the following conditions:
Overly crowded teeth
Gaps between the teeth
Rotated teeth
Overbite
Underbite
The duration of your treatment with ClearCorrect™ will vary based on the severity of your misalignment. Since the effectiveness of ClearCorrect™ is directly related to the patient's diligence in wearing the removable aligners, the best candidates are self-disciplined and committed to the treatment.
How Does ClearCorrect™ Work?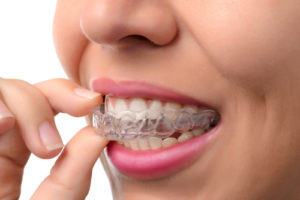 If Dr. Keckley determines that you are a good candidate for ClearCorrect™, he will take several digital images of your teeth and send them to the ClearCorrect™ dental lab. There, the images of your teeth will be used to create a series of clear, customized aligners, which can progressively straighten your teeth until optimal results have been achieved. When worn diligently, the ClearCorrect™ aligners are designed to gradually guide your teeth into their ideal position, improving your smile. Each set of custom aligners is worn for about three weeks before you are instructed to move on to the next set in the series. The duration of treatment can vary from patient to patient, though most treatment plans last between 6 to 18 months. Wearing the ClearCorrect™ aligners for at least 22 hours per day is essential for achieving optimal results in the shortest period of time.
Contact Coronado Classic Dentistry
If you would like to learn more about straightening your teeth with ClearCorrect™, please contact our office today. A member of our staff can help you schedule an appointment with Dr. Jason Keckley.