Full & Partial Dentures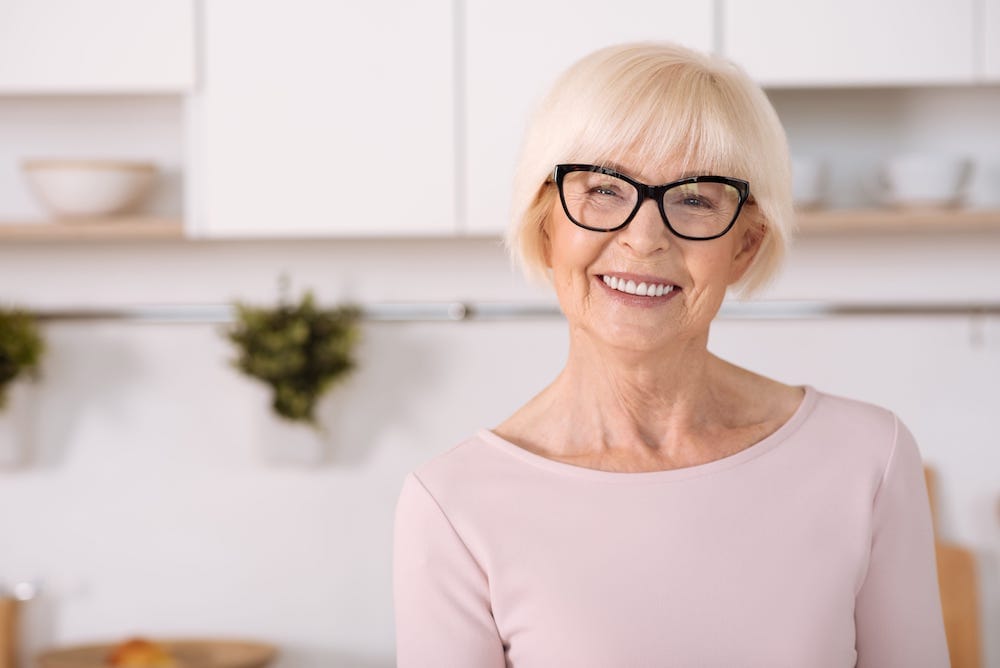 When tooth loss or severe tooth damage leads to noticeable gaps in your smile, custom-designed removable dentures can beautifully restore a full smile and proper bite. With the help of full and partial dentures that are personalized for a comfortable fit, you can smile, speak, and chew confidently. Our dentist, Jason Keckley, DMD, is experienced and highly skilled in all methods of tooth replacement and will match you with the restorative solution that best aligns with your dental needs, goals, and budget. Removable partials and dentures are frequently considered the most affordable option for tooth replacement and can provide an excellent solution for patients who are not good candidates for dental implants.
What Are Dentures?
Full and partial dentures are removable dental appliances that are custom-designed and crafted to replace several missing teeth or full arches of teeth with beautiful results. Dr. Keckley uses only the highest-quality materials and dental labs to ensure his patients receive comfortable, natural-looking, long-lasting dentures.
Who Is a Candidate for Dentures?
Nearly any patient with missing or severely damaged teeth can be a candidate for a complete or partial denture. During your initial appointment, Dr. Keckley will perform a comprehensive dental exam to evaluate your oral health, assess the condition of your dental structures, and identify any issues that require immediate treatment. Based on his findings he will discuss the tooth replacement options that are best-suited for your needs. If you are interested in complete or partial dentures, Dr. Keckley can develop a customized treatment plan for improving your dental health and creating your removable dental appliances. In some cases, patients who come to Dr. Keckley to learn about dental implants may find that they are not good candidates; however, he may instead suggest full or partial dentures as an alternative option for creating the full smile they desire.
What Happens During the Denture Procedure?
The process of preparing you for and creating your custom dentures may require multiple visits to our office. Dr. Keckley's top priority is always achieving a foundation of optimal dental health prior to performing further treatment, and for many denture patients this can involve tooth extractions and periodontal treatments, among others. When extractions have healed and treatments have been completed, Dr. Keckley can take impressions of the mouth from which the full or partial dentures can be designed. These impressions are sent to a trusted dental lab where the dentures will be fabricated from high-quality materials. The goal is always to create removable tooth replacement devices that match the natural appearance of any healthy remaining teeth and/or suit your facial appearance/proportions. Choosing the right tooth color, shape, and size, along with the right shade of gum tissue, is critical to creating a beautiful, natural-looking smile when the dentures are in place. When the finished dentures return to our office from the lab (usually within two to three weeks), Dr. Keckley checks their fit and appearance and may make some small adjustments based on his observations and your feedback. While full dentures stay firmly in place using suction and/or a specialized adhesive, partial dentures rely upon a detailed framework which fastens around natural teeth and over portions of the gums for a secure fit.
How Do I Care for My Dentures?
Caring for your dentures properly and carefully is the key to keeping them in great condition long-term and supporting optimal oral health. When you receive your dentures, Dr. Keckley will review care instructions with you so that you are fully informed. Not all dentures require the same type of care, but these are some general care guidelines that apply to most dentures:
Brush your dentures daily to keep them clean. Be sure to brush gently with an extra soft-bristled brush and non-abrasive toothpaste to prevent scratching and dulling the surfaces.
When you remove your dentures, thoroughly clean your mouth using a soft brush, including all soft tissue and any remaining natural teeth. Be careful to remove any denture adhesive from your mouth, if applicable.
Depending on the materials your dentures are fabricated from, you may need to soak them overnight, either in denture solution or water.
Bring your denture appliances with you to your dental cleanings and exams so that Dr. Keckley can check for a proper fit and make any necessary adjustments.
If you notice any damage, discomfort, slippage, or a loose fit, contact Coronado Classic Dentistry right away to make an appointment.
How Much Do Dentures Cost?
Full and partial dentures vary in price based on a variety of factors, which Dr. Keckley and our office team can discuss with you. Once your personalized treatment plan has been developed, you will receive a detailed estimate for the full cost of your care. If you have dental insurance our knowledgeable office team can check your benefits to determine what portion of your treatment plan is covered and if there are any out-of-pocket costs you may be responsible for. To help make paying for your care as affordable and convenient as possible, we offer a wide range of financial options which include in-office payment plans with low-APRs. Our team is always happy to work with you so that you can achieve the full, healthy, beautiful smile you deserve.
Do you have questions about natural-looking tooth replacement solutions? Contact Coronado Classic Dentistry to schedule an appointment with Dr. Keckley.