Military Dental Care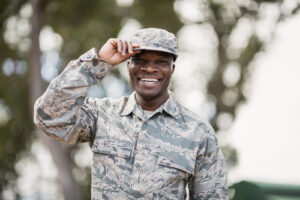 Patients of all ages who are covered by military dental insurance programs (for dependents of active duty, retired military, and their family members), or those approved to receive dental treatment through in-network non-VA providers, can receive outstanding dental care services at Coronado Classic Dentistry! We take pride in catering to the diverse needs of military personnel and their families.
Please explore the informative sections below to learn all about how and why we provide affordable, top-quality care to those with military dental insurance:
Dr. Keckley's Military Experience
Our dentist, Jason Keckley, DMD, is a veteran of the United States Marine Corps. He served from 1998 to 2002 until being honorably discharged. Shortly thereafter, he pursued his path to becoming a dentist. In light of his years in military service, Dr. Keckley knows how difficult it can be to find a great dentist who is not only "in-network" with military dental insurance plans, but also offers the full spectrum of traditional and advanced dental treatments. As a result, he has made caring for military members, veterans, and their families a special focus of his practice. Dr. Keckley and our entire team are proud to provide top-quality, comprehensive dentistry that keeps the teeth and gums healthy, functional, and beautiful. His goal is to make quality dentistry both accessible and affordable to all individuals covered by military insurance.
Dental Treatments & Services Available at Coronado Classic Dentistry
From family dentistry and orthodontics to restorative dental care and dental implants—we offer a full range of dental care options in a comfortable, state-of-the-art facility. No matter how complex or serious your dental needs are, Dr. Keckley and our experienced team can develop a customized treatment plan aimed at delivering optimal dental health, proper function, and a beautiful smile.
We welcome you to explore our website to learn all about the services we provide:
Military dental insurance often provides excellent coverage for many of the advanced treatments we offer. If you are considering a traditionally "high-cost" treatment you may be surprised by how affordable high-quality care can be when you choose Coronado Classic Dentistry. Scheduling an appointment at our practice is simple, just call or email us and our knowledgeable team will help you through the process.
Military Dental Insurance Plans We Accept
At Coronado Classic Dentistry we strive to make our services accessible and affordable to individuals and families with all different types of military-related dental insurance plans. We are an in-network, non-VA provider and the following are just some of the military dental insurance plans we are contracted with:
Metlife® (PPO – Standard and/or High Plan)
United Concordia® (PPO)
United Concordia® (Tricare)
Delta Dental® (PPO)
Various PPO Plans for Retired Military
Additionally, active and retired service people who currently receive dental care from one of the Veteran's Affairs Dental Clinics (VA) can fill out a special form to request treatment from Dr. Keckley instead. When compared to VA facilities, Coronado Classic Dentistry offers a more comfortable, calm, and personal environment, as well as shorter waiting times for scheduling appointments. We also offer a more complete range of services.
If you are interested in exploring your coverage, filing paperwork, or if you have questions about pricing and out-of-pocket costs, our office team is ready to help you.
How to Seek Care at Coronado Classic Dentistry
We understand that it is sometimes difficult to find the right dentist for you who also accepts military dental insurance plans, but we want you to know that you are welcome at Coronado Classic Dentistry. If you are interested in learning more about our services, your insurance plan, and costs, we are happy to answer all of your questions. Our knowledgeable office team has expertise in working with military dental insurance and will always strive to make your experience as smooth as possible.
Find out what makes our practice so popular among military members and families from throughout Coronado and Imperial Beach! We welcome you to contact us to make an appointment with Dr. Keckley and learn about the condition of your dental health.