CEREC® Same-Day Crowns and Restorations
Ceramic dental crowns, along with inlays and onlays, are designed to reinforce and protect teeth that have been compromised due to damage or decay. With traditional techniques, tooth restoration requires that a mold or digital scan of the treated tooth be sent to a third-party laboratory for the design and creation of the custom restoration. This process can take a matter of weeks and involves a second visit to the dentist's office for the crown fitting and placement. With CEREC® technology, our dentist Jason Keckley, DMD is able to design, manufacture, and attach your custom crown during a single office visit.
What is CEREC®?
CEREC® is a 3D restoration design and milling system that uses advanced software to create fully customized restorations right in the dental office. The CEREC® system eliminates the need for a dental lab and makes it possible for patients to have a crown, inlay, or onlay—whichever matches their exact needs and aesthetic requirements—designed, milled, and placed within the same day.
What Are the Benefits of CEREC® Restorations?
CEREC® same-day restorations are made to improve the strength of the tooth and the appearance of the patient's smile. The benefits of CEREC® dental crowns, inlays, and onlays can include:
Reinforced tooth structure
Protection from future decay
Repaired cracks, chips, or areas of decay
Natural appearance
Comfortable fit
CEREC® technology uses digital impressions that eliminate the need for physical molds of the teeth, ultimately enhancing patient comfort during the visit and the final results. Each dental restoration is designed to blend perfectly with the surrounding teeth for a beautiful smile. Best of all, the entire procedure can be completed in just one day.
Same Day CEREC® Crowns vs. Traditional Lab Crowns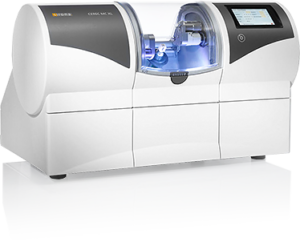 Compared to traditional crowns and restorations that are fabricated in a dental lab, crowns and restorations made with the CEREC® system offer several advantages. Below we provide some comparisons between these two types of crowns:
CEREC® uses 3D digital scans instead of dental impressions made with putty and bite trays
CEREC® restorations can be designed, milled, and placed during a single appointment
Two visits are often required to complete a procedure with traditional lab crowns
With traditional crowns, a temporary crown is typically necessary to cover the prepared tooth while you wait for your final crown to return from the lab
Traditional lab crowns may take two weeks or more to return from the lab
CEREC® crowns are crafted from one solid block of ceramic material, which can make them stronger than certain kinds of traditional crowns
CEREC® crowns offer optimal aesthetics and fit in minimal time
Tooth preparation can be more conservative with a CEREC® crown
In some instances, a lab-made crown may be the better choice for your needs, and Dr. Keckley can explain why during your consultation. If you still have questions about the differences between these two methods, he can provide you with the answers you are looking for at the time of your visit.
What is the CEREC® Same Day Crown Process Like?
During the consultation process, Dr. Keckley will perform an oral exam, discuss your cosmetic goals, and help determine which method of tooth restoration can best meet your needs. If you are a good candidate for a CEREC® same-day dental crown, Dr. Keckley will first prepare the affected tooth to receive the restoration. With CEREC®'s digital scanning technology, an impression of the tooth can be made and then used to design and fabricate the final restoration in our office. Finally, Dr. Keckley can then bond the new restoration to the affected tooth, completing the procedure.
How Much Do CEREC® Crowns Cost?
The cost of treatment involving a CEREC® crown or restoration can depend upon a variety of factors, including:
Whether the restoration is an inlay, onlay, or crown
The type of material that is chosen for the restoration
The complexity of the tooth preparation process
Any fees for anesthetics or sedation dentistry techniques
The skill and experience of the CEREC® dentist
During your personal consultation, Dr. Keckley will recommend the type of CEREC® restoration that is most suitable for your needs and budget. When your consultation is complete, you will be provided with a comprehensive cost estimate for your overall care. If you have dental insurance, our helpful office team is happy to check on how much of the cost is covered by your plan. They can also explain any details regarding pricing and your benefits. In addition to working with many dental insurance plans, Coronado Classic Dentistry is an official VA Vendor.
For our patients' convenience, we accept several methods of payment—major credit cards, health savings accounts, flex benefit cards, and more. For further details, we suggest reviewing our Financial Options page.
If you are interested in learning more about CEREC® same-day crowns, please contact us today. Schedule a consultation with Dr. Keckley to discover if you are a good candidate for this restorative dentistry technique.