How Can I Improve the Appearance of a Single Stained Tooth?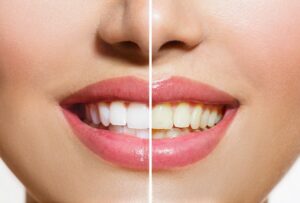 Even the smallest tooth imperfections can make it difficult to smile, speak, and laugh with confidence. One of the most common aesthetic smile concerns is tooth staining or discoloration, which can occur as a result of a number of different factors. Common causes include consuming highly pigmented food and drinks, poor dental hygiene, using tobacco products, and taking certain medications (such as tetracycline). Whether you have a single stained tooth or wish to whiten your entire smile, Coronado dentist Jason Keckley, DMD offers several treatments—including professional teeth whitening, porcelain veneers, and crowns—that can restore a brilliant smile.
Teeth whitening
Whether a patient has a single stained tooth or a mouth full of them, professional teeth whitening can dramatically reduce the appearance of discoloration. Designed to provide powerful results, both in-office and take-home whitening treatments can be highly effective against externally derived stains (those not related to medication or dental trauma). The applied whitening solution extends into the deep layers of tooth enamel to produce a smile that appears brighter and whiter.
Porcelain Veneers
Porcelain veneers are ultra-thin shells that can be placed over the front and sides of individual teeth to improve their appearance. Each veneer is custom crafted from high-quality dental porcelain to match the size, shape, and color of your natural teeth, blending in beautifully with the rest of your smile. This treatment is often recommended for addressing the appearance of otherwise healthy teeth that exhibit intrinsic staining (discoloration of the inner layers of the tooth), which is often not responsive to traditional teeth whitening.
Crowns
For a deeply stained or severely discolored tooth—especially one also affected by wear, damage, or decay—CEREC® same day dental crowns can be an ideal cosmetic solution. Dr. Keckley digitally designs these crowns with CEREC® technology to match the color, shape, and size of the surrounding natural teeth. The crown is then fabricated and placed like a cap over the affected tooth, providing both structural support and aesthetic improvement. As an added benefit, CEREC® crowns can typically be designed, created, and placed in a single office visit.
To learn more about the different treatments available for correcting teeth stains, or to schedule a consultation with Dr. Keckley, please contact us today!