What Causes Teeth Staining?
Tooth discoloration is a reality for most of us, and there are many reasons that yellowing and dark stains can appear on the teeth:
Frequent consumption of staining beverages and foods
Natural aging
Use of tobacco products
Inadequate dental hygiene
Decay and enamel erosion
Gum recession
Dental trauma
Dark metal fillings
Certain prescription medications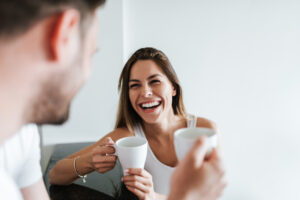 At Coronado Classic Dentistry, many of our patients ask us how they can achieve a brighter, whiter smile, and the answer depends on the type and depth of discoloration they are experiencing. Following a comprehensive dental examination performed by our experienced dentist—Jason Keckley, DMD—you will have the opportunity to learn about the various treatment options we have available for effectively correcting dental stains and smile discoloration like yours. Options include:
Professional In-Office & At-Home Teeth Whitening – Clinical-grade teeth-bleaching systems can be effective for breaking down and lightening most types of stains present in the dental enamel. If your teeth are in good condition and your staining is not intrinsic or located in the dentin of the teeth, Dr. Keckley may recommend teeth whitening with the in-office or at-home Opalescence® system. These options can whiten teeth several shades, and with maintained hygiene, avoidance of staining substances, and touch-up treatments teeth can remain white and bright long-term.
Porcelain Veneers – Porcelain veneers can conceal any type of dental staining or discoloration on teeth that are healthy. These thin shells of high-quality, stain-resistant porcelain ceramic material are bonded to the visible front side of each tooth to create a beautifully perfected appearance. Porcelain veneers are often ideal if your staining/discoloration does not respond to bleaching or you desire a more significant degree of whitening than bleaching can provide. Best of all, porcelain veneers can remain bright and white with proper care, even when exposed to staining substances.
Cosmetic Dental Bonding & Tooth-Colored Fillings – Cosmetic dental bonding and tooth-colored fillings can be a suitable option for correcting whitening-resistant stains/discoloration, damaged tooth enamel, dark fillings, and decay that affects the appearance of your smile. Both bonding and natural-looking fillings are completed with a composite resin material that is shade-matched to blend beautifully with your smile.
Porcelain Crowns – Teeth that are discolored due to trauma, extensive damage, or severe decay may require a dental crown. A custom dental crown can not only improve the appearance of the tooth, it can also restore the health, structure, and strength of the tooth.
If you are struggling with dental stains or discoloration that affects the overall appearance of your smile, Dr. Keckley and the team at Coronado Classic Dentistry can help! Contact our office to schedule your appointment and learn more about ways we can improve the health and beauty of your smile.