Civilian Dentist for Active Duty Military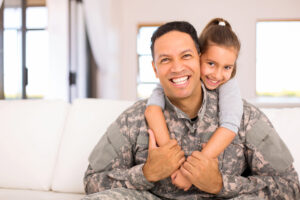 Coronado Classic Dentistry is excited to announce that we have been approved as a civilian dental care provider for active duty service members! This means that current military personnel can receive top-quality dental care from our practice while still being covered under United Concordia's Tricare Active Duty Dental Program (ADDP). In order to be eligible for coverage, service members must first receive a referral from a military dental treatment facility. Military dental clinics often have extensive waitlists, and it can take upwards of a year for military personnel to receive the dental care they need. Through the Active Duty Dental Program, many different types of dental appointments can now be referred out to Coronado Classic Dentistry, decreasing wait times and ensuring that service members receive quality care in a comfortable, state-of-the-art setting. We also offer a number of other dental financing and payment options for veterans, their families, and the dependents of active duty personnel.
Our dentist, Jason Keckley, DMD, is a veteran of the United States Marine Corps. He served from 1998 to 2002 before being honorably discharged. Since receiving his Doctorate of Dental Medicine in 2012, Dr. Keckley has made military dental care a special focus of his practice. He understands firsthand the difficulty that service members often face in finding high-quality, comprehensive, in-network dental care. All of us at Coronado Classic Dentistry are dedicated to helping patients maintain healthy, beautiful, and functional smiles, and we take special pride in being able to extend these services to current and former members of the United States military.
Coronado Classic Dentistry is a comprehensive dental care provider, with services ranging from general and family dentistry to restorative and cosmetic dentistry. We also offer orthodontic treatments and sedation dentistry options.
If you would like to learn more about our status as a civilian provider or about or practice in general, or if you are interested in scheduling an appointment, please contact Coronado Classic Dentistry today.