Coronado Dentist Provides Quality Dentistry to Imperial Beach-Area Residents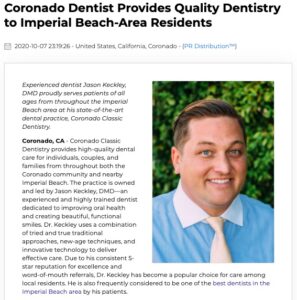 Experienced dentist Jason Keckley, DMD proudly serves patients of all ages from throughout the Imperial Beach area at his state-of-the-art dental practice, Coronado Classic Dentistry.
Coronado, CA – Coronado Classic Dentistry provides high-quality dental care for individuals, couples, and families from throughout both the Coronado community and nearby Imperial Beach. The practice is owned and led by Jason Keckley, DMD—an experienced and highly trained dentist dedicated to improving oral health and creating beautiful, functional smiles. Dr. Keckley uses a combination of tried and true traditional approaches, new-age techniques, and innovative technology to deliver effective care. Due to his consistent 5-star reputation for excellence and word-of-mouth referrals, Dr. Keckley has become a popular choice for care among local residents. He is also frequently considered to be one of the best dentists in the Imperial Beach area by his patients.
While Dr. Keckley can be an appealing option for anyone seeking exceptional general, restorative, cosmetic, or implant dentistry, he is especially favored by military-affiliated individuals. Dr. Keckley's practice accepts most military dental insurance plans, and he takes a special interest in providing comprehensive dental care to active-duty military, veterans, and their families. Dr. Keckley was a member of the United States Marine Corps (1998 to 2002) and understands first-hand how difficult it can be to find a great dentist who performs the latest treatment and works with military dental insurance plans. He emphasizes that at Coronado Classic Dentistry, military patients do not have to wait months for appointments, struggle with insurance billing issues, or compromise on the quality of their care.
Dr. Keckley prides himself on performing the full spectrum of dental treatments in a safe, comfortable, and positive environment. Care is always customized to suit the unique needs, goals, and budget of the patient for an optimal and affordable outcome. Dr. Keckley offers the following services at Coronado Classic Dentistry:
Comprehensive Dental Care – General dentistry services focus on improving and maintaining the health of the teeth and gums. Care is available for patients of all ages.
Sedation Dentistry – Sedation dentistry can help patients with dental anxiety or those who require extensive dental treatment to receive care in a comfortable and relaxed state. Dr. Keckley is certified in oral conscious sedation for the safety of his patients.
Cosmetic Dentistry – Cosmetic dentistry options, such as porcelain veneers and teeth whitening, can dramatically improve the appearance of the teeth and smile.
Orthodontics – The ClearCorrect™ system uses clear aligner trays to straighten crowded and misaligned teeth quickly, discreetly, and comfortably.
Restorative Dentistry – Badly damaged, decayed, or missing teeth can be beautifully restored or replaced through a variety of options, including dental implants, same-day crowns, and implant dentures.
TMJ Treatment – Dr. Keckly can use a variety of techniques to treat discomfort and improper bite function caused by temporomandibular joint disorder (TMD).
Sleep Apnea & Snoring Treatment – Obstructive sleep apnea and loud snoring can often be treated with custom night guards and oral appliances that help open the airways.
Urgent Dental Care – Dental emergencies often require immediate attention to address intense discomfort and swiftly repair damage.
The first step for receiving treatment at Coronado Classic Dentistry is a consultation appointment, during which Dr. Keckley and his team thoroughly evaluate the patient's dental health, ask about the specific concerns the patient wants to address, and develop a treatment plan aimed at creating a healthy, beautiful smile. Coronado Classic Dentistry accepts a broad range of dental insurance plans and offers in-house dental financing to help make treatment more accessible and affordable for patients. The friendly, knowledgeable office team is always available to answer any questions patients have about treatment, payment options, billing, insurance, and more.
About Jason Keckley, DMD
Jason Keckley, DMD served in the U.S. Marine Corps before becoming a dentist. In 2002, he began his undergraduate education at San Diego State University (graduating with a BS in 2008), and went on to receive his Doctorate of Dental Medicine from Midwestern University in 2012. In order to provide the highest level of treatment for his patients, Dr. Keckley continues to receive training in the latest dental procedures and treatments, including sedation dentistry techniques, implant dentistry, CEREC® same-day crowns and restorations, and clear aligner orthodontics. Dr. Keckley is an active member of the professional dental community, and he is involved in several prominent organizations, including the American Dental Association, the California Dental Association, and the San Diego County Dental Society. He is available for interview upon request.
For more information, please visit dentistcoronado.com and facebook.com/dentistcoronado.
Contact:
Coronado Classic Dentistry
1315 Ynez Place
Coronado, California 92118
(619) 435-9191
Rosemont Media
(858) 200-0044
www.rosemontmedia.com