Coronado Dentist Highlights Innovative Clear Braces Technique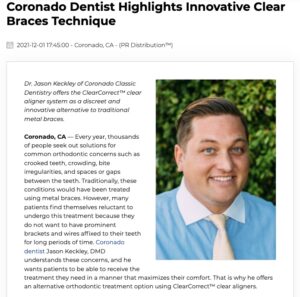 Dr. Jason Keckley of Coronado Classic Dentistry offers the ClearCorrect™ clear aligner system as a discreet and innovative alternative to traditional metal braces.
Coronado, CA — Every year, thousands of people seek out solutions for common orthodontic concerns such as crooked teeth, crowding, bite irregularities, and spaces or gaps between the teeth. Traditionally, these conditions would have been treated using metal braces. However, many patients find themselves reluctant to undergo this treatment because they do not want to have prominent brackets and wires affixed to their teeth for long periods of time. Coronado dentist Jason Keckley, DMD understands these concerns, and he wants patients to be able to receive the treatment they need in a manner that maximizes their comfort. That is why he offers an alternative orthodontic treatment option using ClearCorrect™ clear aligners.
The ClearCorrect™ system works by progressively moving the teeth into a straighter position using a series of custom-fabricated aligners. The aligners are made of a high-quality plastic material that is designed to be translucent and nearly undetectable to the naked eye. The aligners are also flexible and thin, and they can be removed while patients eat, drink, or perform their oral hygiene routine. Each set of aligners is worn for about three weeks, at which point patients will change them out for the next set in the series. Every subsequent set is slightly modified from the previous sets, as they gently shift the teeth into a more desirable alignment for gradual orthodontic improvement.
Dr. Keckley notes that the ClearCorrect™ system can help address a variety of orthodontic concerns, including gaps between the teeth, crowding or irregular spacing, and bite issues such as overbite, underbite, and crossbite. In his experience, patients often prefer ClearCorrect™ over traditional braces because it can provide effective results and a more comfortable and aesthetically pleasing treatment experience. Metal brackets and wires on the teeth can be uncomfortable for patients to wear, with many adults worrying that they contribute to a less mature or professional appearance. Furthermore, traditional braces often involve food restrictions and elaborate cleaning regimens. According to Dr. Keckley, ClearCorrect™ eliminates many of these inconveniences, instead allowing patients to feel comfortable and confident while still obtaining the straighter, more uniform smile they desire. Plus, ClearCorrect™ can often help achieve orthodontic improvement in less time than traditional braces.
For all of the advantages that ClearCorrect™ can provide, Dr. Keckley notes that it may not be the ideal treatment option for every patient. In more severe or complex orthodontic cases, traditional braces are often still the best solution. For other patients, cosmetic dentistry options—such as porcelain veneers or CEREC® same-day crowns—may be able to provide an improved smile aesthetic by concealing misalignment and other cosmetic disruptions behind custom restorations that are designed to look and function just like regular teeth.
Ultimately, Dr. Keckley is pleased to note that patients have more options than ever when it comes to obtaining a straighter, more uniform smile. For patients wishing to learn more about whether ClearCorrect™ is right for them, he recommends scheduling a consultation with a qualified dentist. From there, a comprehensive evaluation can be performed and a treatment can be suggested that is optimally suited to the unique goals of the individual.
About Jason Keckley, DMD
Dr. Jason Keckley is the owner and director of Coronado Classic Dentistry. A proud veteran of the United States Marine Corps, he went on to receive his Doctorate of Dental Medicine in 2012 from Midwestern University. In addition to providing orthodontic care using ClearCorrect™, Dr. Keckley is passionate about providing high-quality preventative, general, cosmetic, and restorative dental care for his patients. He maintains an active presence in the dentistry community, and is a member of the American Dental Association, the California Dental Association, and the San Diego County Dental Society. Dr. Keckley is available for interview upon request.
For more information, please visit dentistcoronado.com and facebook.com/dentistcoronado.
Contact:
Coronado Classic Dentistry
1315 Ynez Place
Coronado, California 92118
(619) 435-9191
Rosemont Media
(800) 491-8623
www.rosemontmedia.com